SAMPLES of CARICATURES
Imagine what Richard Ellis could do for your guests!
The caricatures shown here are in black and white. Pen and ink is his favoured technique for 'on the spot' caricatures so that they can be drawn quickly but colour sketches can be requested in advance.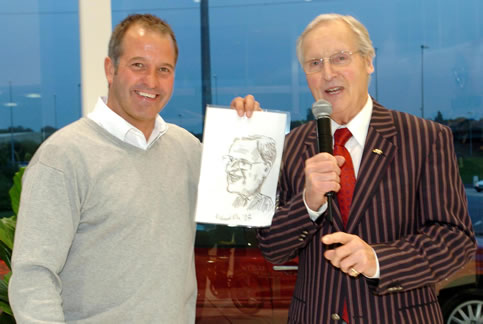 With Steve Bull (Wolverhampton Wanderers and England) and Nicholas Parsons (Sale of the Century, Just a Minute)
Photo by Tom Kane
Clever Dick! ...the etymology of "caricature"
The word 'caricature', hence 'caricaturist',is derived from the Italian 'caricare', meaning 'to load, burden, exaggerate or distort'. This in turn comes from the Latin 'carrus', which was a type of Gallic wagon! Most people believe (wrongly) that the word is related to 'character'. This explains why there are many mis-spellings of the word, and why Richard is often booked by people looking for a characaturist, a charicaturist, a caructurist, a characterist or a characterist; he has had many enquiries from people looking for a caracature, a characture, a caricture, a caracture, a caricter...